With a median age of approximately 8.5 years old, the young stars of The Florida Project aren't just acting prodigies—as of today, they may be directing our 2035 film slate.
At A24, we believe in supporting filmmakers at any stage of their career. Some of our biggest hits have come from first-time writer/directors—visionaries like Alex Garland, Robert Eggers, and Greta Gerwig (her solo directing debut, but still).
So, in the spirit of supporting up-and-coming talent, we asked Brooklynn Prince, Valeria Cotto, and Christopher Rivera (who, while shooting, were just as excited to be behind the camera as in front of it) to tell us about the movies they want to make. Needless to say we are sold.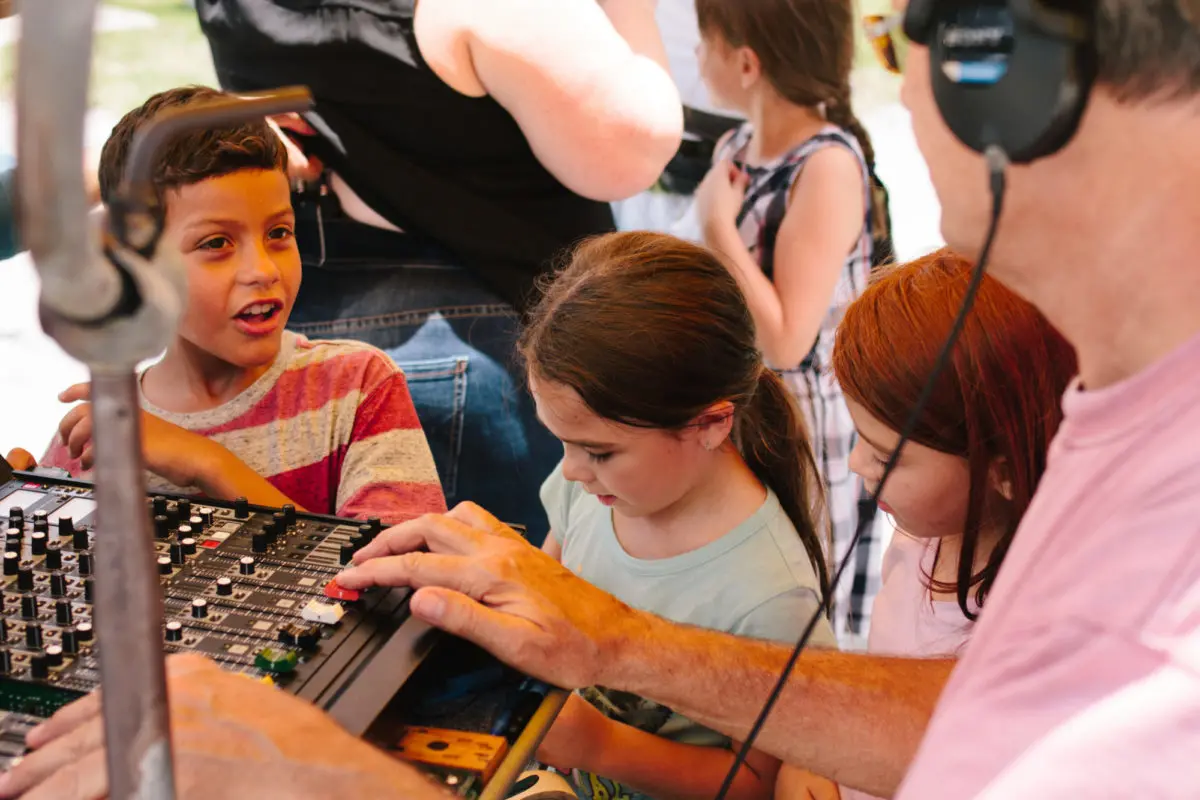 So, if you could make a movie, what would it be about?
Brooklyn: I would make my film about a kinda like romance-comedy. It's about a Broadway star and a set producer, or a stage manager, who the daughter loves hanging out with, so you know, they end up falling in love and yeah.
Valeria: My movie would be about six girls that are really struggling in school because sometimes there can be bullies in school and they kind of bother you. Well, I used to get bullied in my old school. So this girl has a first day of school. She comes in with kids, she thinks all the kids are nice. The kids walk up in her face and said like, oh, she's not gonna fit in the school, like they be really mean. So she just says that's not nice, it's actually quite very rude, but then she says it's okay, I'm fine.
Christopher: My movie would be called "The Last Time on Earth" and it would be about zombies and people are trying to survive. So, in the first part, nobody knows what happens if you get bitten. Then when they show what happens after they die, the characters see what happens to this guy, so they realize "All right, we can't get bit." So they can't—and then a lot of people got bitten. Zombies ate 'em. There was only one survivor and his name was Christopher Rivera.

Where would you shoot your movie? And who do you want for your cast?
Brooklynn: I would shoot it on Broadway Street, because it's a Broadway story about a Broadway musical girl. Elle Fanning is the star's friend who babysits the child, I'm going to be the director, and be the little girl in it. I'm gonna have Emma Watson be the mother. And I'm gonna have Daniel Kaluuya be the funny person, like the Broadway star's friend, I think, yeah, the costar on the show, on the Broadway musical. And, like, he's always the funny one. And her love interest is going to be John Boyega. He's my Man Crush Monday.
Valeria: I would shoot at my school in Kissimmee. I would cast Olivia Rodrigo, this girl from Bizaardvark (it is on Disney Channel) and Tom Hanks. Tom Hanks would be the teacher, Olivia would be the main character. Brooklynn Prince would play her classmate. Bria Vinaite would play her aunt and Mela Murder would play her mother! Oh, and Willem Dafoe, he will be the principal.
Christopher: I would like to do it at Universal Orlando because there's more space there and it would be cool, like zombies coming out of the water. I need a cool cast. Tom Cruise, um, Daniel Radcliffe. And Emma Watson and Willem Dafoe. Willem would play my father. Because I'm so close to him and I like Willem Dafoe to be my dad. He protects me when the zombies come. He's throwing food, like popcorn at them so they don't eat the kids, like here! Here! Here, have those, have that chicken.

What part of the movie-making process are you most excited about?
Brooklynn: Probably working on the set and like directing people. And using my imagination to create new scenes. 
Valeria: I'm excited at the idea of being the director because you get to do many cool things, like you get to look through the camera. And like people can't look at you so you get to be like an invisible spy, spying on them. Sean Baker did this a lot! He was like, "Pretend I'm a wall, don't look at me."
Christopher: The best part of making this movie will be that the family of The Florida Project is back together. 
How much do you think you'd need for the budget?
Brooklynn: I am going to need $14,000 or $1,400.

Valeria: I think I'd need a lot of money to make this… like $800. Actually, no, $3 million. 
Christopher: I think this is going to cost a lot! I think about $10,000. Mm-hm.

Making your first movie can be tough. Who will you ask for help and advice?

Brooklynn: Probably Sean Baker. Or uh, the director of my new movie, her name is Floria. She'll have really good advice on angles, on how she takes my picture.

Valeria: I would definitely ask advice from Sean Baker, because he made The Florida Project, like he made good angles, he made it like perfect. Oh, and I'd ask George Lucas for help, too because I love the Star Wars movies and he makes them like very, very, very awesome!
Christopher: Sean, because he was the director of the Florida Project, so I need—and he was the director, so I need him to guide me.

Last question. Long shooting days mean you would have to keep your crew well fed. What kind of craft services/food would you have on set?
Brooklynn: Food on set is pretty important to me… Okay, I would have ice cream waffles with extra, extra warm syrup, and extra, extra bacon. I want root beer, Sprite, lemonade, beer. I want candy. I want Skittles. I want a whole cup of Skittles. I want ice cream, I want sprinkles, I want gummy bears. I want butter beer. I want Shirley Temples. I want cherries. I want non-alcoholic things. And I want extra, extra, extra ginger bread.
Valeria: So on set, I'd have some fruit, granola bars, and sandwiches, and probably on Fridays, either have tacos or pizza.
Christopher: We need to eat good on set. I'd serve spaghetti. [pause] And salad.
Key art exploration for Brooklynn Prince's Love Stage.