You might not want to bring a knife to a gunfight, but if you're costume director Emma Fryer, you'll want to at least bring several outfit changes. 
Set almost entirely in a warehouse in 1970s Boston, Free Fire not only required Fryer to put together realistic uniforms the cast could brawl in, but duplicates of every vintage pair of jeans, boots, and scarves featured. Bullet through the car coat but need another take? No problem, swap it out for coat #2 or maybe #3 or #4. We sat down with Fryer to discuss how she worked through all the sweat, blood, and dirt to serve some seriously funky looks.
How were your initial conversations with director Ben Wheatley about the direction of the costumes for Free Fire?
He had some visual references and ideas in his head. Quite a few were film references, some had to do with color palettes. There was a great book I got from the Tate Modern that was actually called Terminal Bar and it was just photographs [from the 70s and early 80s] shot in this bar in New York. That one book set up quite a bit for me because it was so brilliant and you can see, in a strange way, that we've moved on, but also haven't. People are still dressing in such a similar way.
The '70s—there is this stereotype and what we imagine it to be, but for this film, there was very much a feeling of keeping a real individuality to each character. There's the element of Ireland coming into it with Cillian [Murphy] and Frank [Michael Smiley]. Then there are Sam Riley and Enzo Cilenti's characters—they hadn't been home that night and had come straight from the club, so the idea of the Hawaiian shirt made sense…I always think all the answers are in the script.
Was it a challenge to establish characters in just one costume?
In a way, it was quite refreshing. Sometimes actors love not having to change. When you're watching something so closely and there's so much going on, sometimes that one costume says enough. You accept that character very quickly and get a sense of them immediately.

How many vintage duplicates did you have to secure for the entire film?
We didn't have a thousand duplicates simply because we're not a major feature. Everyone definitely had repeats, and at the very beginning, I really had to take that into consideration. But I don't think anyone had more than ten, which is probably a different arena to a huge studio film. I think in another world you might have 20, 30, or 40 repeats on a three month shoot. 
How were you all able to make that work?
I guess it really helped because it was shot in sequence. When it's shot out of sequence then I think you do have to facilitate it in a bigger way. As the cast ends up getting shot and ends up with more bullet holes, we kept adding [holes] into the other repeats.
And then you've got to always keep a hero costume clean that will never be damaged at all and is the same from the beginning. 
Some of the cast wanted to not keep changing their costumes. They got quite attached. Once they started crawling along on the floor, it had a mind of it's own, really, so that was quite interesting. Brie's jacket—because she kept the same one on—we had to make the new one look as [worn in] as the one she had been crawling around in… it's quite an art.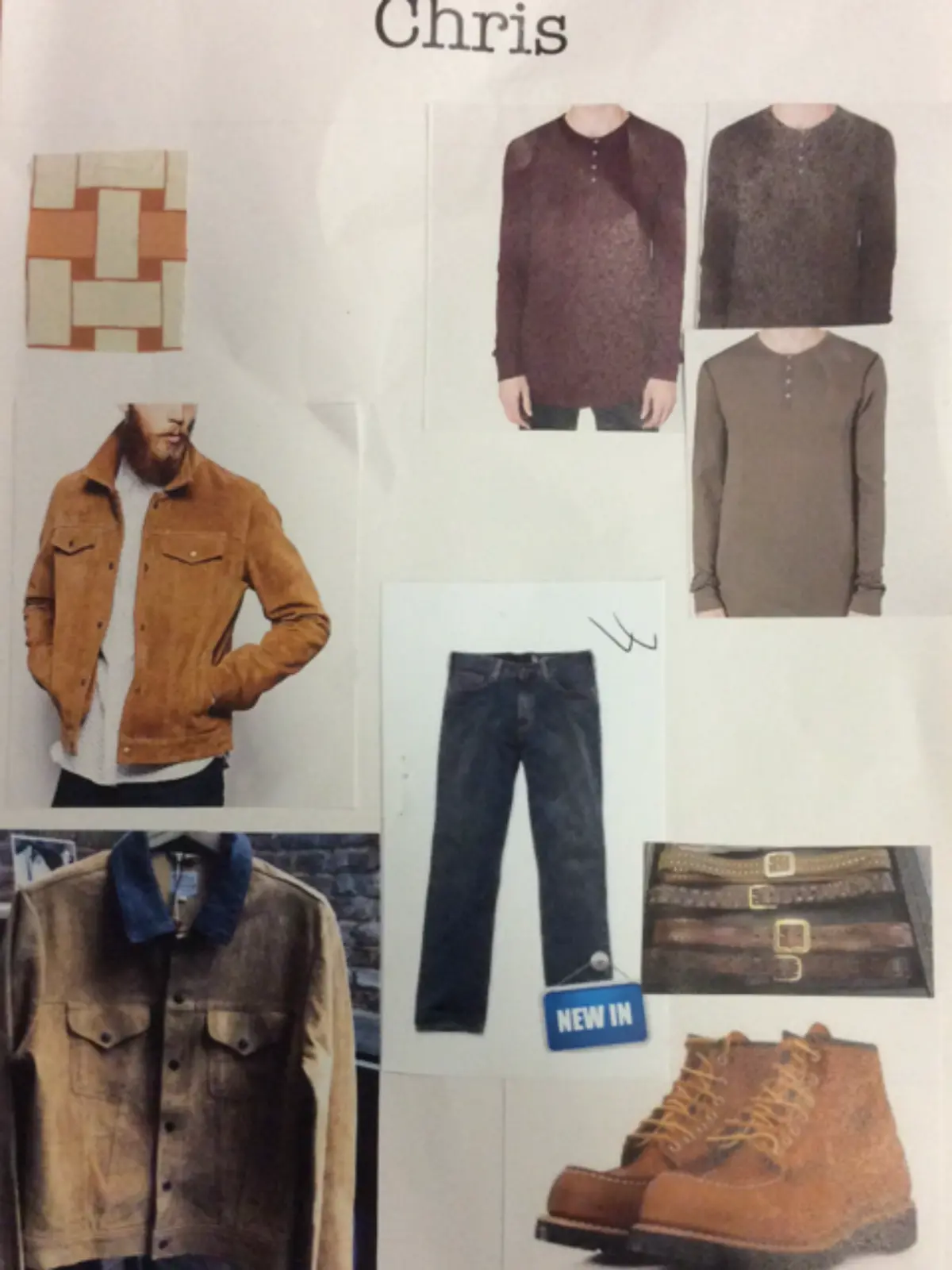 How did you balance custom-made pieces with vintage?
Certain people were completely made-to-measure. Frank's suit was completely made. Chris was a real mix and he had some old Farah trousers on and we used a bit of the label RRL, the vintage [Ralph Lauren] label. His jacket was an old vintage jacket from there. It was a Henderson RLL 1940s inspired car coat that he wore. We used some old Gabicci knitwear, which is a really old label. Levi's was brilliant because they still do a great vintage range. All of Babou Ceesay's clothes], that was all made obviously. Sharlto Copley, his were all made too. So it was a real mix.
There's only a couple of old men's shops left in London. When I came to London 25 years ago, there used to be some great shops where you could walk in and probably still find original pieces, but less so now.
We did a lot of hunting around to try to find some original pieces and if we liked them, we tried to copy remake them or feed them in if we could. 
But it just depended on quantity and if we had enough to cover how much we needed for the repeats really.  It's hard to find multiples, but the Levi's vintage jeans—we altered those, that was fine—and the original Levi's jacket was something we could get more of. But otherwise, the suiting and then the safari suit…we had to make all of that because we would have never found enough of them to do the repeats on it.  
Why did you end up putting everyone in jackets?
I think everyone needed to have a jacket on because they did end up with quite a bit of padding on. They were on the floor for so much of the film and [required] knee padding and elbow padding for crawling around.
Brie had her jacket made, her blouse was made. Things like her Frye boots came out new, and she had a Coach bag. Brie Larson's character's neck scarf felt especially '70s in a simple way.
I remember seeing it and wanting to add a little element to make [her costume] more interesting. It was a functional thing as well: the whole idea of her having to tie something when she got shot in the leg. There was talk of her ripping something off the jacket, but that was just not going to be so easy. And out of that conversation, I thought she could have a neck scarf and it's so right for the period. 

When you made custom pieces, did you source vintage fabrics?
I would definitely find something that fit the period but if I fell in love with something else, as long as it [felt] right, that's okay. 
Definitely with Frank's suit, it wasn't actually vintage fabric, but I wanted it to look as close as possible. The whole idea of polyester just wasn't great with him going up in flames. With something like that, you try to find some natural fabrics—especially because he did the stunt himself. I think Sharlto Copley came over literally on a Thursday and we were filming him on the Monday. I had a lot of chats with him on the phone, I sent lots of emails with fabric samples, and he went to a costume house and tried on some suiting.
What was the fitting process like, especially under such time restraints?
You can try on three different suits and they can all fit slightly differently, but you'll always know when it's the right one. When you do fittings, when it works, it just works. Everyone is a different shape so it is just a case of trying the clothes on. 
There is a lot riding on each look! I tried not to overthink it too much because I think you could get caught up, and then if I gave myself different options in a fitting with somebody, then immediately you knew if something was right or wrong.
This interview has been edited and condensed for clarity.