Dear friends,
My parents were radical hippies and thought watching TV, let alone film, at a young age, would be disruptive for the development of a child's brain and soul. Because both of them were artists, they would paint, meditate, and sculpt clay all day long in their studio in the backyard, which forced them to get us a babysitter. The local villager had no idea what to do with us since we weren't allowed to have plastic toys, or any other device to help her entertain us. Bored with the wooden blocks that were supposed to trigger our imagination, she decided to take us to the cinema.
Completely unaware of the anthroposophical philosophy my parents lived by, she enthusiastically took us to see Annie. I was six and my sister was eight. This experience did indeed completely disrupt my soul, it changed my DNA forever. When I came home, I told my parents we had to move to America for me to become a child prodigy, just like Annie. I thought Aileen Quinn had created that film and shot it herself, so I devoted the rest of my life to try to become her.
When thirty years later, I was on stage working around the clock for the most brilliant director in the world, Ivo van Hove, I started to obsessively think of Annie again and realized over and over, she didn't make that film herself. Even though I loved being Ophelia, Hedda Gabler, Maria Stuart and The Shrew that had to be tamed, part of me yearned to create a story of my own.
Of all the classical plays I was a part of, the theme of self-destruction and power weaved its way through all of them. Why do humans, even though they think they are enlightened and civilized, do stuff that is bad for them? When we shot Black Book, I would always nag Paul Verhoeven that my dream was to be a director myself. He said that for me to create my own story I needed a question. "Why am I attracted to what is bad for me?," inspired me to create Instinct based on a true story about a therapist who falls in love with a rapist she is treating in jail. "Is the beast inside or outside of us?" made me connect to Bodies Bodies Bodies. After all the beautiful tragedies I was part of on stage, it was the most miraculous journey, to try and make people laugh. Dark humor is a great key and weapon to discuss the absurdity of life.
A year and a half ago, at 9 pm, just after dinner, back in my kitchen in Amsterdam, my phone rang. It was our producer, David Hinojosa, telling me that I would have to take a flight to New York the next day at 3 pm. There was a travel-ban in place, so there would be no way back. All I thought of was Annie and my wish to move to America to become part of the creative dream factory that had changed my DNA forever when I was 6.
Arriving here during the aftermath of the first Covid wave was the loneliest period of my life. I was 45 and felt the American dream that Annie showed me was an illusion. I didn't have an identity anymore. In Amsterdam I had it all: friends, family, a job, a beautiful house, a wonderful partner, a production company with my best friend, my fame, (that I thought I hated, but that I missed tremendously when it was gone) and a government that would take care of you in case you fell off the wagon. There was none of that here. Just rats and cockroaches that would look at me as though I was trying to invade their personal space when I walked the streets of the Big Apple. All I wanted to do was go home.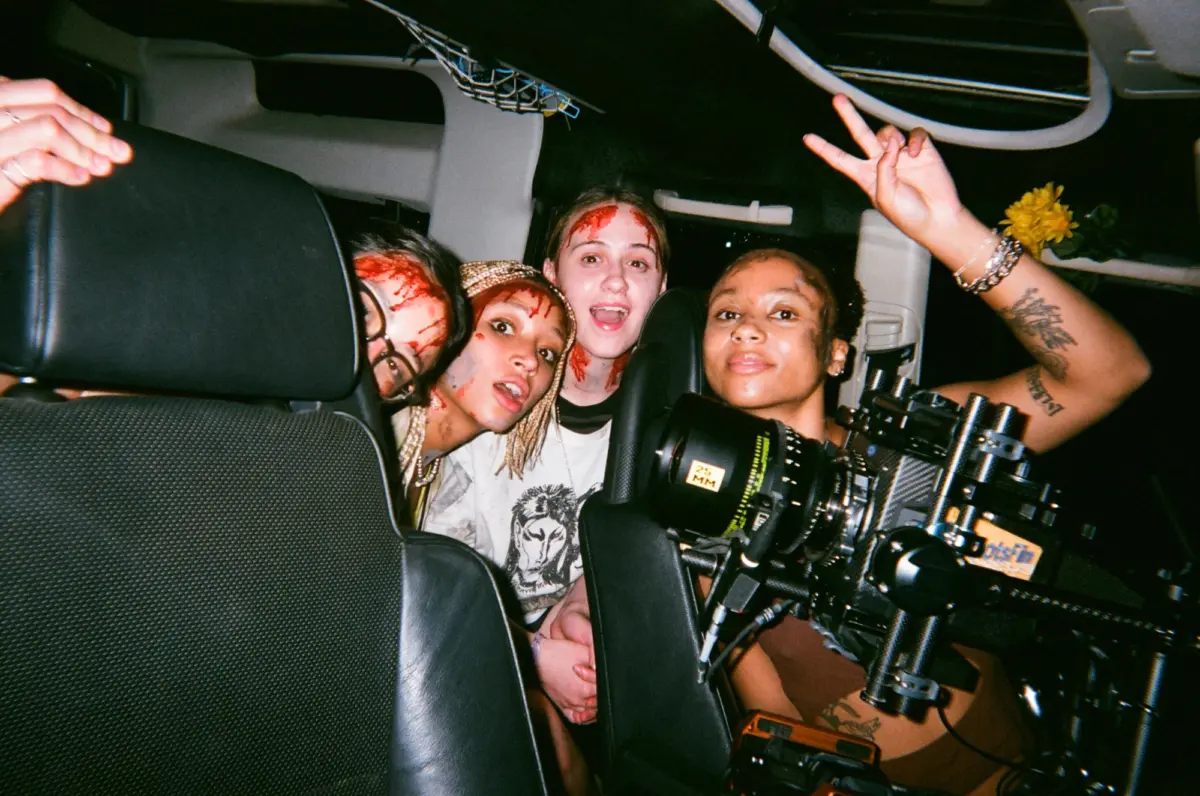 Bee's (Maria Bakalova) primal need to belong to a group, to be accepted, to be seen and heard and held and loved, was my own hunger for all of that. We all think we are aliens or imposters, at times, no matter where we are in life. It takes incredible courage to trust and believe in our own unique path, through darkness and in light.

Making this film in the land I had dreamed to be part of since I was six, was the hardest and the most beautiful experience of my life. Working with genius writer, Sarah Delappe on the screenplay, making it our own, finding the insanely talented cast, who were ready to open up to a process in which we pretended to be a theatre ensemble, with no ego, and extremely thorough preparation, only 25 shooting days, working around the clock to create a story together, as collaborators, that would address group behavior, the need to belong and what goes wrong when people fail to look into each other's eyes to actually see what is happening, was truly magical on a soul level.
Shooting incredibly long takes of incredibly long scenes (Some were 15 pages long) created an acting style that was sensuous, truthful, authentic, and funny. It demanded everything from the cast. Not only did they have to operate as an experienced ensemble, but also, the shoot was technically demanding, dealing with rain, wind, cold and underwater shots. All of them were excellent and completely devoted. All of them shine in this film, in their own unique way, and together as a group. They nested themselves in my heart and will be there forever.
Seeing the film in a theater, here in America, with an audience, has been the most wonderful experience ever. The warmth and openness of the people has touched my heart deeply. I am so very grateful I am here. I fell in love with this land, with the city, with the genius, creative, beautiful people I was lucky to meet, with my new identity, and the rats and the cockroaches alike. I feel as if I was just born, and I can only dream and hope to continue to be creative on this soil.
The sun will come out tomorrow, Annie said. I am sure it will.
– Halina Reijn